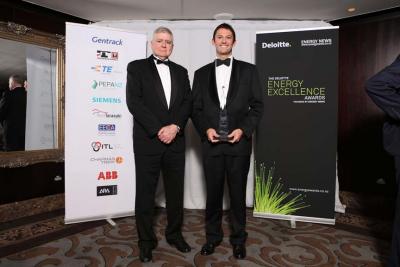 Meridian Energy credits much of its recent customer retention and satisfaction successes to contact centre manager Tony Sumner and the high level of skill and engagement he has maintained within his team during the past year.
At a time when the company's call centres operated out of three different locations - post the February 2011 Canterbury earthquake - Tony's team contributed to an increase in the company's key customer metrics. Meridian added a net 13,500 customers between May and August of 2011 and in the June quarter of that year widened its customer satisfaction margin over its next nearest rival despite the business still being in disaster recovery mode.
And Meridian says its ability to perform at that level is due in large part to the systems Tony put in place over the past four years and specific preparations he drove after the September 2010 Canterbury earthquake.
The contact centre is a `virtual' operation enabling it to be run from any Meridian site. After the September quake Tony developed a disaster recovery plan, including establishment of back-up systems and equipment in Meridian's Wellington headquarters. Within 48 hours of the February quake, Tony had overseen the relocation of 25 Canterbury staff to Wellington.
And despite the challenges facing Meridian, which had most of its staff and 70,000 account holders living in Christchurch, customer satisfaction actually improved.
About 70 per cent of Meridian customers surveyed by Nielsen rated Tony's team as providing very good or excellent service. The March quarter survey this year showed that customers found call centre staff to be empathetic, easy to deal with and good at providing all the necessary information - aided by the Right Now Knowledge Base introduced by Tony in December.
In February, Meridian led the big power companies for customer service in the FairGo/Colmar Brunton Best in Service survey. In the overall rankings it was second only to subsidiary Powershop.
One of the ways Tony ensures such a high standard of customer service is through a call quality programme he introduced. In areas such as professional phone skills, solutions, maintenance and questioning, Tony's team has scored no lower than 87 per cent over the past 12 months.
He has also used innovative technology to enhance customers' experience. The introduction of an interactive voice response system has resulted in improved call routing, prioritisation of important business customers and reporting analysis.
But Tony is also keen to see Meridian's human talent developed. Earlier this year he launched a modular, 10-month programme aimed at helping call centre staff with leadership qualities develop those talents. It has been so popular that it is now being offered to other Meridian business units.
And it is measures like that, and simpler initiatives - such as chocolate rewards under Tony's Please, thank you, well done awards - that have kept the call centre staff motivated.
For the past two years, the contact centre has led the rest of the company in terms of employee engagement. And where staff losses in contact centres average 20 per cent a year nationally, Tony's team loses just 10 per cent externally. Many of those who do leave take up internal promotions to other parts of the business.
And Tony's broader interest in Meridian's overall customer-relationship saw him shoulder-tapped last year to oversee a project on customer issues resulting from the earthquakes, as well as the introduction of a new billing platform.
Earlier this year Tony established a managers' forum to increase awareness of customer issues across business units and deliver a coordinated response.
The Young Executive of the Year Award category is sponsored by ABB.