Health and safety during emergency response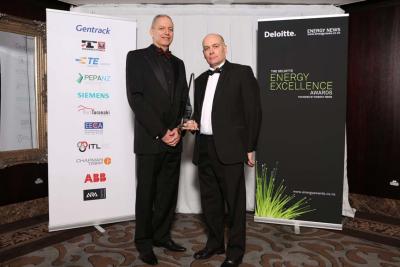 In the year to March, Orion's health and safety protocols were extensively tested by a series of damaging earthquakes in the Christchurch region. Earthquakes changed the lines business's entire health and safety context, presenting a unique challenge given their lack of warning, long duration and the changing nature of hazards over time.
Thanks to Orion's risk-based approach to safety, based on the four R's process – reduction, readiness, response and recovery – health and safety performance following the earthquakes was exceptional and Orion was able to ensure the health and safety of its staff, contractors and the wider public around the Orion network.
Despite the devastation and hazardous conditions and the large number of staff and contractors involved in the rebuild, just one minor injury was recorded in the period under review.
Reduction, readiness
Orion's success in minimising harm in the past year lies in more than a decade of preparation to improve the company's resilience and its ability to respond to emergencies.
 To ensure a rapid and effective response in an emergency, Orion had carried out extensive risk assessment/reduction in terms of vulnerability of the network to natural hazards and had a practised emergency plan in place, including roles for key staff to perform in the event of a disaster.
In the mid 1990s, Orion participated in the 'Lifelines' project in Christchurch, considering the vulnerability of its network to natural hazards. The 'Risks and Realities' action-plan that resulted saw the company invest more than $44 million to increase resilience in the network, including $6 million on seismic strengthening.
In 2006, the role of safety manager in the company was refocused to encourage all staff across the organisation to consider safety a top priority.
In 2008 the company set about minimising the risk of public access to live equipment. Its physical security plan will see all substations, kiosks, link boxes and other network assets fitted with extra protection that serves as a "double warning-barrier approach". Forty three per cent of substations and 62 per cent of link boxes now have these measures in place, with further work underway.
In 2010 the company initiated its key staff disaster management structure plan, which ensured the executive team had specific roles in terms of disaster response, covering responsibilities such as overall business continuity, pandemic risk, public communication and recovery.
As a result, the emergency plan was able to be enacted smoothly after the earthquakes, even though some key staff were out of town during the February 2011 quake.
Orion says earlier disaster management initiatives also proved their value at this time. Managers with experience in technical areas were encouraged to keep up their competencies and were able to perform specific tasks during the disaster response. An earlier "housekeeping" initiative at Orion's administration offices meant filing cabinets and large storage units remained affixed to walls, reducing risk to staff and assisting with rapid evacuation.
The major earthquakes in February, June and December 2011 created a number of safety risks associated with network damage, but continuing challenges also stemmed from demolition and construction work, heavy machinery movements, temporary accommodation and ongoing aftershocks. Travel in severely damaged areas was a risk, as were unstable buildings, asbestos, contaminated ground, stress and fatigue as well as more normal workplace hazards.
To manage those risks, Orion undertook specific planning after each major event and the plans were revised on a day-by-day basis. Early in the response, all staff were briefed by the CEO daily, who reminded them of the importance of good safety behaviours.
After each major quake, particular focus was placed on realising the hazards that damaged electrical network assets posed to people and then putting measures in place to address any danger. Right after the February earthquake, Orion staff walked the worst affected streets and isolated the most damaged buildings from the rest of the network so that they were not re-livened.
To cope with the extraordinary working conditions and additional external challenges, Orion provided practical short-term solutions such as the provision of hand sanitizer, dust masks, food and water. Rostered breaks were implemented, flexible working hours were encouraged and time off to manage personal earthquake issues was provided, along with legal advice. The Orion wellness programme was refocused to account for the additional earthquake-related challenges, with the inclusion of  resilience training and additional counselling services.  Access to Orion's employee assistance programme continued.
It is estimated that for the Christchurch rebuild, as many as 13,000 contractors will be required and many will be working with and around live electrical infrastructure.
Accordingly, Orion has committed extra resources: a contractor engagement programme is in place, safety training is offered to contracting staff, and safety posters, DVDs and other guidelines are available. The company adapted the Department of Labour's "Guide for Safety with Underground Services" pamphlet into a DVD format. In the past two years it has been distributed to staff, fellow lines companies and 2,000 third party contractors.
The Excellence in Health & Safety Award category is sponsored by Siemens.