Environmental excellence down the wires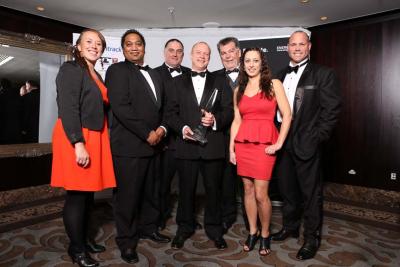 Transpower's North Island Grid Upgrade Project was always going to be a technical and environmental challenge.
The work, conducted by an alliance of Transpower, Balfour Beatty and United Group, would see a double circuit 400 kV capable line erected on 426 steel towers over 185 kilometres.
But that also meant creating more than 300 kilometres of access tracks and roads, moving over 180,000 cubic metres of earth, and turning 318 properties into temporary construction sites at different stages of the three-year project. Just on 156 hectares of exotic forest were cleared, along with another 216 hectares of vegetation. To date, more than 2,460 trees and 14,893 shrubs have been planted in mitigation.
Keeping landowners, nine councils and six government agencies happy was a major undertaking and was achieved through a mix of innovation and good practice frameworks. Careful planning and an exemplary performance record meant Transpower was able to continue works during winter.
During construction, existing farm tracks were used where possible, reducing land disturbance. Those that were made became assets to the landowners who will be able to use them after the project is finished. When vegetation needed to be cleared, a "stay on the farm" approach was used so that cleared vegetation wasn't going to waste. It was made into either landscape mitigation mulch for sediment barrier control or milled onsite and used for fencing, donated to local schools or stockpiled for the landowner.
Innovation key
Difficult terrain made construction a challenge, but innovation was key. Earthworks were reduced by using dura mat for temporary tracks and a tracked Lo Drill rig that could operate on angled slopes when preparing foundations and by using specially extended and crane-suspended concrete pump hoses to pour them.
Plastic formwork was used for tower leg up stands during foundation construction. Not only does plastic hold its shape better than steel, it is lighter for transport and handling, thereby reducing machinery and fuel costs. Environmentally friendly oils were used to prevent concrete adhering to the formwork so contaminants would not discharge into the land.
Key to achieving those sorts of results was building and sustaining strong relationships with stakeholders and ensuring that good environmental management was at the forefront of everybody's minds.
Regional councils, the Historic Places Trust and iwi representatives took part in an environmental induction process through which each party educated Transpower management and crews as to the onsite work requirements related to their respective disciplines.
That early and ongoing consultation was extremely important throughout the project, enabling faster processing of management plans, sediment control plans, site specific consents and permits for construction activity.
The environmental work stream was made part of team development and emphasis was placed on training, goal setting and changing environmental attitudes. The policy of focusing on best practice and "best for project" outcomes, beyond mere compliance, was evident in choices to use innovative plant and machinery options, actively seeking to reduce carbon emissions, and making considered efforts to minimise the impact on communities and create efficiencies where possible.
The Environmental Excellence Award category is sponsored by PEPANZ.