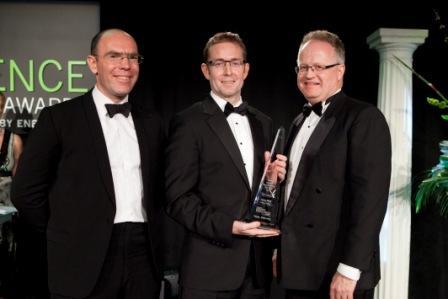 James Kilty, Contact Energy's head of renewable development, is admired by his colleagues and respected within the company and the wider energy sector as a young executive of high calibre.
James has a law degree with first class honours from Waikato University and in 2009 completed the Executive Programme at Harvard University. He is a member of the New Zealand Geothermal Association, the New Zealand Wind Energy Association and the New Zealand Law Society.
He joined Contact as legal counsel in 2002, coming into his current role as General Manager of Renewable Development in 2009 at the age of 33. In that time, the company says he has been an invaluable team member and has shown an extensive skill set. He particularly demonstrated great leadership in his most recent role when the company achieved a number of milestones in 2010 and 2011.
Projects
Under his management, a number of Contact's generation projects have recently been given the green light, progressed to the next stage of development or successfully completed. These include:
Commissioning of the Te Huka power station (stage one, Tauhara) in May 2010, ahead of schedule and on budget.
Consent for the Waitahora wind farm project in November 2010.
Approval of stage two of the Tauhara project in December 2010. It was the first project to be approved under the rigorous process governed by the Environmental Protection Agency.
Agreement signed with Taheke 8C and Adjoining Blocks Incorporated to jointly explore and develop the Taheke geothermal resource.
Consent for the Te Mihi power station granted and board investment decision made in February 2011.
Consent for the Hauauru ma raki wind farm project in May 2011.
Getting these projects to the next step, particularly challenging ones such as the Hauauru ma raki wind farm, was a culmination of James's fantastic leadership and teamwork, the company says. To progress this many projects at the same time requires an exceptional ability to cope with and overcome challenges and is a transparent test of any executive's leadership skills.
Part of James's success can be attributed to his talent for building and preserving relationships with the wide range of stakeholders involved in these projects. He has shown a particular skill in engaging with tangata whenua and the communities within which these projects are located.
In addition to this unprecedented success in gaining project approvals, James also oversaw a 25 per cent improvement in health and safety in the year to June 30, 2010 - remarkable given this was a time of increased construction.
James's leadership style is receptive, responsible and inclusive. He strives to be an intelligent and passionate leader and focuses on continually encouraging and developing his team. He has been the driving-force behind the implementation of Contact's "Project Deliver Process" which aims to ensure all projects are progressed following sound planning and analysis.
In 2011 the Young Energy Executive of the Year category was sponsored by Minter Ellison Rudd Watts.