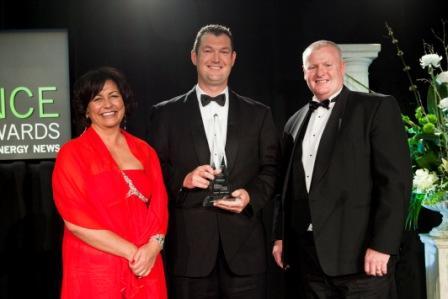 Powerco, New Zealand's second-largest lines company, distributes electricity and gas to more than 420,000 customers. It distributes electricity within eight separate networks in the upper, central and lower north island which span a total area of 27,000 kilometres, the longest electricity network in the country.
The company is committed to improving customer confidence in supply by increasing the reliability of its networks, parts of which are 50 years-old. Since 2005 Powerco has reduced the number of faults per kilometre by 10 per cent.
Last year, despite severe storms in September, that number fell to 6.28 faults per 100 circuit-kilometres, from 7.72 in the 2009 year. The industry averages for the two years were 7.91 and 9.28 respectively.
Powerco credits its BLITZ strategy - Bring Line Interruptions to Zero - for improving its network performance over time. Data is collated after storm damage or a network failure, to help target renewal efforts and so deliver the best outcomes from its constant improvement efforts.
And when things do go wrong, the company says its excellent relationships with service providers enables it to restore supplies quickly. Lightning and tornados during the September storms caused 330 high-voltage outages and 3,500 low-voltage outages. Electricity was restored to all customers within seven days.
Investment
But Powerco knows it's the long-term investment that will deliver the best improvements for customers. The company replaced the SCADA system on its eastern network and is planning to migrate its western network to the same platform to improve real-time management and reduce unplanned outages.
It is also installing new equipment at selected sites to better understand the extent of harmonics, sags, swells and other power quality issues. At the same time, new injection plants using a low-frequency signal will improve the accuracy and reliability of load-control systems.
Loop automation in the Manawatu has helped improve restoration times after faults on the company's rural networks. An earth fault neutraliser at Kimbolton slashed faults in the area by 60 per cent and the company is planning to install two more on its networks.
But meeting long-term growth in a reliable way sometimes means building new assets.
In March, construction started on a $6 million, 12-kilometre 110kV line between Kaimarama and Coroglen to improve supplies on the Coromandel Peninsula. Additionally the company built new substations in Papamoa, Matapihi, Omanu in the Bay of Plenty and at Katere near New Plymouth.
Powerco says that, given the rural nature of much of its network, it performs well on asset efficiency measures. Operational expenditure per kilometre was below the industry average of $2,910 and was a low percentage of replacement cost compared with other networks of similar customer density.
In the 2010 period, regulatory profit before discounts and customer rebates was 43.9 per cent of net line charge revenue, compared with an industry average of 40 per cent and industry median of 35.3 per cent.
In 2011 the Lines Company of the Year category was sponsored by TE Connectivity.