LOW-CARBON FUTURE AWARDS FINALIST: Orion greens its generators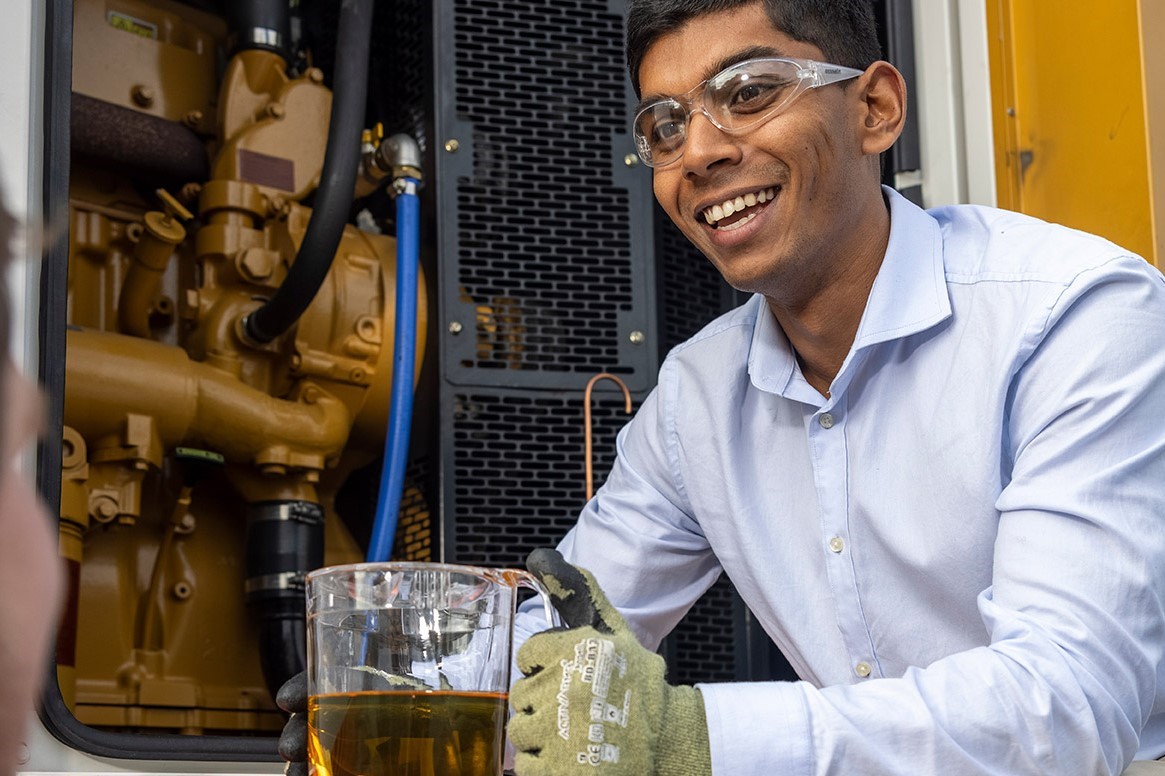 Used chip fat and static synchronous compensators – Statcoms – are the two key ingredients in an ambitious project by Orion to decarbonise its diesel generators.
Orion's 15 generators are vital when the power goes out in an emergency and keep critical community services connected to the network during upgrades.
But that comes at a significant environmental cost. The fleet consumes about 150,000 litres of diesel annually and emits the equivalent of 400 tonnes of CO2, which would require the planting of about 60 hectares of native forest to sequester.
Priority workstream
Orion's recent focus has been on limiting the environmental cost of this critical equipment.
It has committed to making its corporate emissions carbon-neutral by June 2022.
Using the diesel generators equates to at least 15 per cent of Orion's operational carbon footprint. Decoupling the fleet from diesel is a priority workstream and will see the business take a significant step towards its carbon neutrality goal.
Ground-breaking project
Work started in 2019 on a project aimed at dramatically reducing emissions from Orion's generators without compromising the network's reliability.
The project centred on trialling the use of Statcoms – a regulating device used on alternating current electricity networks – and 100 per cent biodiesel to decarbonise the generators. 
It was ground-breaking.
Neither Statcom nor biodiesel had been used on large generators before. There was no guarantee either would work and there was no guarantee the project wouldn't damage the generators involved in the trials.
The trial
The project ran from 1 April 2019 to 31 March 2021 and came within its budget of $200,000.
Orion chose GreenFuels® B100 biodiesel for the trial. It was the second company, and first electricity distribution business, to trial the B100 biodiesel and the first to do so in large generators.
Its focus was investigating how B100 grade biodiesel – 100 per cent biodiesel – comprising mono-alkyl esters of long chain fatty acids derived from vegetable oils, would perform on a 440 kW generator and whether this fuel source would be a viable long-term alternative for mineral diesel.
The biodiesel would be tested in three different generators under static and dynamic loading from 0-400 kW, with various elements measured, including pressure, temperature, fuel usage, exhaust gas flow, efficiency and emissions.
The Statcoms held fewer unknowns for Orion. Testing focused on: 
how the Statcom would perform once attached to the generator and on the network
adding a second port to the generator's Programmable Logic Controller to turn the Statcom on and off, and to set points at which it would operate
ensuring the Statcom and generator wouldn't interfere with each other
Results
The insight gained from the trial has already reduced Orion's carbon footprint by at least 9 tCO2e; potential savings are estimated at at least 130 tCO2e.
A further trial is now underway with one generator fuelled solely by B100.
The project showed Orion could keep communities connected to the network without using mineral diesel. It also had the unexpected benefit of reducing engine wear.
By adopting this system, Orion is carving a path that will give other users of large generators the confidence to also decouple from diesel.
The Low Carbon Future Award Initiative category is sponsored by BusinessNZ Energy Council
Book a seat at the 2022 New Zealand Energy Excellence Awards Here.