Stuff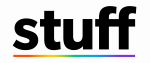 Stuff is a collection of digital-first products and services that connect Kiwi communities to the stuff that matters, the stuff they love and each other.
With storytelling at the heart of Stuff, the company is leveraging its audience scale to diversify into new categories and revenue streams, ensuring it can continue to deliver quality local journalism that Kiwis look for every day.
Visit about.stuff.co.nz to see a full portfolio of brands - including Stuff, Sunday Star-Times, Neighbourly, Done Health Insurance, energyclubnz, Stuff Fibre, Stuff Pix, NZ House & Garden and NZ Gardener, as well as a huge range of regional and community newspapers and events.